What would you do if you found out that you were, in fact, a character in a comic? And an extra character on top of that?
Change the course of the story, obviously! Eun Dan Oh is a 17-year-old high-school student from a wealthy family who suffers from a lifelong heart condition that inevitably means she will not live past her teenage years. However, when Dan Oh realizes she is experiencing long gaps in her memory as well, she comes into the unhappy inheritance of another fact in her life: she is a character in a Korean webtoon and all of her actions are predetermined by the artist who draws her. To make matters worse, she discovers she is only a supporting character in the cast. With her newfound understanding of the world she inhabits, she is determined to find true love in her own plot-line and circumvent the author's plans for her character by utilizing the flashes of storyboard she alone is able to see.
Adapted from the webcomic series "July Found by Chance" by Moo Ryoo.
Feelings: First Episode
I really loved the premise, so my interest was highly peaked but it was not what I was expecting. I'm not sure exactly what I was expecting but what I was met with something in-between a predictable school romance (which is what I was seeking to fix my shattered existence after Moon Lovers) and a deeply layered psychological story. I really didn't know what to think after the first episode, all I knew was that I literally could not think of anything else but watching this show. I would get home from work, quickly shower, and then sit my butt down on the couch to binge it up. The female lead was adorable and enjoyable to watch ( I had never seen her before) and the male lead was good looking and mean, which you know I'm all about, so I was like okay. Let's fucking do this!!!
Characters
I have never seen this actor before but she really did a splendid job! Her character was set up in such a way that really had you questioning at first if you cared about her but then realize while the character is realizing at the same time, that she's just a extra in a comic book and she was created to be a certain way. Some scenes really cracked me up when she's like talking so fast to herself and people are like wtf is she on but in actuality SHE ON SOME REAL SHIT...you don't even know like... Her development was awesome and her personality was so determined and cute that I was googling her by episode 4. What really got me hooked on Dan Oh was her ability to portray such sadness. It was such a weird circumstance to be in and she was so hyper-aware of everything. If you think about it, she must have worked so hard. How thoroughly draining that would have been - mentally, emotionally, and physically. It's not like her heart pain didn't actually hurt her, or her feelings weren't hurt when Baek Gyung would say awful things to her, but she still was so determined to break away from that set way of thinking. Determined to make her own life and choices. She knew who she was before anyone did and she was the strongest character among them. I think she would have came to the same conclusion in both story lines even without Haru. But Haru became an intrinsic part of the equation that was Dan Oh's true self so it just made the story that much better. When Haru disappeared I could feel her heart break. Ahhh so good! >o<
Who created this human? He is honestly a work of art and I like everyone usually but this guy had me making plans to move to South Korea. Like I am dead serious, I have never seen a more beautiful human and if I had the chance I would suck his lips right off his pretty face. I'm upset someone like him roams this earth and I will probably go my entire life without ever seeing him in person. Also had no idea he had the singing voice of an angel. Mad on all fronts here. But for someone who was acting for the first time in a major TV series, I was highly impressed. I thought he did a great job and I would have never known he was a newbie if I didn't research who this beautiful man was. He played his character so perfectly, from the unknowing doe eyed Haru, to the tennis lackey Baek Gyung biffles Haru, to the I remember everything I fucking love you to death Dan Oh Haru. I just really was enraptured by his presence and delivery. I will literally fangirl stalk him for the rest of my days now. Thanks Ro Woon LOL <3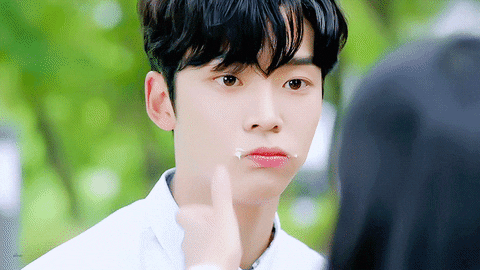 P.S. How did they get away with this scene without giving people heart attacks across the globe?! I know I had one. I'll never get over it.
Lee Jae Wook...Baek Gyung
This guy has some real acting talent. And he's soooo young to be thattt maturely handsome. I think Baek Gyung had the most unfortunate of character set ups. And to figure everything out on his own only to realize that he might just be exactly like his character was written. So not only was he struggling with his family and his past, but then he was struggling with his original past story line, the fact that he was in the dark for as long as he was in this story line, AND to top it all off, he actually loves Dan Oh for real and has to come to terms that he might not be deeper than his character's set up. That's heavy and real shit to deal with. It would hurt me too to have Haru come outta nowhere to try and take the only thing that makes even a little bit of sense in his life. Like him, I would hold on for dear life but what was truly impressive was his characters arc. He really came around and in him doing so made a sacrifice that would offer Dan Oh and Haru the acceptance they needed. My heart hurts for him though. Even his brother was like you are always lonely bro, then AND now. But I'm happy he had his brother at the very least.
Jung Gun Joo...Lee Do Hwa
What a jolly dude. He was the sweetest character and actually was quite complex if you think about it. He figured the shit out early on but made a decision to follow the set up. He just cared for every single person and he cherished his friendships, so much so he sacrificed his own desires. That's true maturity, good character development, and true love. Platonic and romantic. The real unsung hero of Extraordinary You. <3
Basic dude, kind of a numskull. I wish he became self aware at some point. It's kind of super sad that he never did but all his friends did. That's kind of lonely. I also don't think he was in Trumpet Creeper either. But I have no doubt that Joo Da was going to figure his shit out and make him become self aware. He was in good hands lol.
BADASS. Loved the way her character developed. I was really rooting for her to become self aware from episode 1. I was like please, she will be so much better!! And turns out she was. She told those bullies nah ah. TOUCH ME AGAIN BITCHES! I DARE YOU!! And they did not because she had the wrath of god in her pretty little eyes. Plus she made a really tough decision to relinquish her growing feelings for Do Hwa and stick by Nam Joo, who really had no one. Like she was right to not abandon poor little Nam Joo in la-la land but a part of me wanted her to be with Do Hwa anyway. I thought it was implied that she really didn't like Nam Joo and it was only her set up, but I guess she did like him AND Do Hwa. Hilarious that she was like I wish the 3 of us can date >_< like girl got self awareness don't know how to act LMAO.
Lee Tae Ri...Jin Mi Chae / "Dried Squid Fairy" / "A4"
A sweet baby face with a menacing undertone. I hoenstly did not even consider that he was a character and also part of the original story line. I really thought he was like a pseudo character based on the writer or something. Really through me for a loop. I'm glad he was able to see his love again (who by the way came out of nowhere, knowing everything...ok lol). :)
Post Feelings: Finishing the Series
I LOVED it. Now I do feel that the ending should have been more, like for example, two episodes that kind of set it up as if it were a completely new story line and then an entire episode of Haru and Dan Oh being reintroduced and falling in love all over again through memories. Like it would have been cool to see them set up as the main characters this time and finally have that chance to love without consequences. But all in all, I don't think it ended terribly in the least. The series was wrapped up in a neat little bow that made it very expected of the genre, but also didn't leave me feeling like I needed more. It was just enough and honestly it was so well produced, acted, and presented that it is what it is, and I am ultimately pleased. I would also have loved to see more of the Trumpet Creeper story and Haru a bit more fleshed out as a character but you can't have it all. 5 out of 5 for this one - unique plot, good acting, complex characters, with a dash of historical drama. Loved it!
#extraordinaryyou #kdrama #rowoon #sf #kimhyeyoon #leejaewook #koreandrama #haru #kpop #vagabond #leenaeun #kdramas #hyeyoon #julyfoundbychance #kimyoungdae #bts #crashlandingonyou #kimseokwoo #danoh #itaewonclass #lovealarm #danharu #exo #junggunjoo #kdramascenes #kdramaedit #school #hoteldelluna #eundanoh #bhfyp